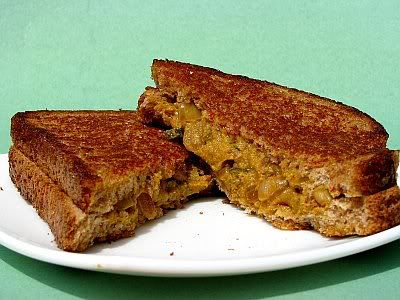 This is the world's best grilled cheese sandwich ever! Seriously! It isn't just the best VEGAN grilled cheese sandwich, it is the best grilled cheese sandwich period. I love these things, can you tell?
Crispy, salty on the outside and creamy and spicy and CHEEZY on the inside!
Ingredients (makes 4 sandwiches)
1 yellow onion diced
3 cloves garlic diced
2 Tbsp vegan butter
2 Tbsp flour
1 cup hot water
2 Tbsp lemon juice
1 Tbsp miso paste
1 Tbsp spicy mustard
1 Tbsp soy sauce
1/4 cup pickled jalapenos chopped
1/2 cup nutritional yeast
pinch of salt and pepper
1/2 tsp cumin
8 slices of bread
butter to spread on the bread
-Saute the chopped onions on medium high heat for 8 minutes, until they are soft
-Add the chopped garlic and continue cooking for another 2 minutes
-Lower the heat to low and add the 2 Tbsp of vegan butter and stir until completely melted
-Add the 2 Tbsp of flour and stir for a minute till the flour is completely combined with the butter, garlic and onion
-Slowly add in the 1 cup of hot water, stirring continually until the flour and butter break down and form a thick creamy consistency with the water
* At this point the mixture will look a bit liquidy and not gooey enough to form a good grilled cheese sammy, have no fear! Once you add the nutritional yeast later on it will thicken up into a thick, cheesy consistency.
-Add the salt, pepper, cumin and jalapenos
-Add the lemon juice, miso paste, soy sauce and mustard
-Slowly stir in the 1/2 cup of nutritional yeast and stir and cook for another minute
-Remove cheese sauce from the heat and allow to come to room temperature while you spread butter on the outside of each piece of bread
-Spoon some of the filling onto a piece of bread NOT on the buttered side, then top with another piece of bread
-On medium high heat in a drizzle of olive oil cook the sandwiches buttered side down until they are brown and crispy. Top with a sprinkle of sea salt and enjoy!