Posted by The Voracious Vegan in Vegan Recipes
on Jun 9th, 2009 |

Comments Off
When I started planning this dish I had been pleased that it was heading to become so wholesome, and that I will be utilizing up elements we currently had in our kitchen, but I in no way imagined I will be blown away by it is absolute delicious taste. I mean, I knew it will be hearty and wholesome (it's filled with super foods quinoa, nutritional yeast, and spinach) and be fresh and nutritious, but I did not anticipate to become shocked by its sheer cheezy yumminess! Actually, I had been heading to bake it in the oven, I had been envisioning a casserole, but as I had been ladling it into the casserole dish I tasted a little of it and was so pleased I did not wish to danger altering a point. So, it's an un-casserole!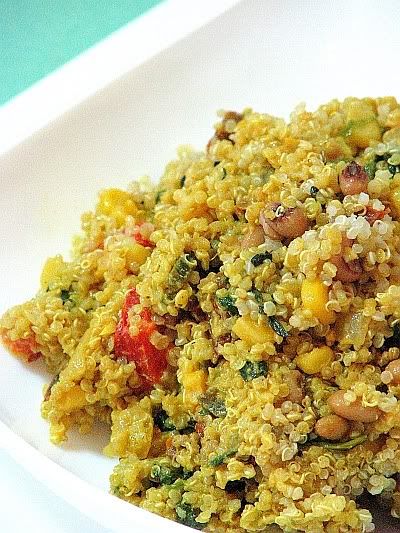 Ingredients
2 and 1/2 cups of quinoa, rinsed and cooked according to directions on package
1 yellow onion, chopped small
3 bell peppers, chopped small
3 cloves garlic, diced
2 cups chopped fresh baby spinach leaves
salt and pepper
pinch of cumpin, paprika, red pepper flake
1 can corn, drained
1 can pinto beans
-Saute in olive oil the onion, bell peppers, and garlic
-After 10 minutes or so add the spices and continue cooking for another 10 minutes until everything is tender
-Turn off the heat and wilt in the spinach
-Combine with the cooked quinoa and corn and beans
Cheeze Sauce
Ingredients
4 cloves garlic, diced
2 Tbsp vegan butter
3 Tbsp all purpose flour
1 Tbsp balsamic vinegar
2 Tbsp lemon juice
2 Tbsp mustard sauce
1 Tbsp soy sauce
3 cups water
pinch salt and pepper, cumin and turmeric
1 cup nutritional yeast
2 Tbsp pickled jalapenos chopped
2 Tbsp sun dried tomatoes chopped
3 Tbsp cilantro
-In a frying pan saute 4 cloves of garlic in a drizzle of olive oil until crispy
-On very low heat add 2 Tbsp vegan butter, stir slowly until completely melted
-Slowly add in the 3 Tbsp flour, stirring constantly until completely combined into a roux
-VERY SLOWLY drizzle in the 3 cups of water, stirring constantly until the mixture is completely combined and there are no clumps of flour (Seriously, go slow and never stop stirring. Your patience is the key to your cheeze sauce having a nice smooth texture, you don't want any clumps do you?)
-Add the balsamic vinegar, soy sauce, mustard, lemon juice, and dried spices
- Add in the nutritional yeast and turn off heat, stir completely
- Add the jalapenos, sun dried tomatoes, and cilantro
Pour the cheeze mixture over the quinoa and veggies, stir it up completely, and enjoy!
Posted by The Voracious Vegan in Vegan Recipes
on Apr 5th, 2009 |

Comments Off
What could be better than a creamy bowl of savory soup? Lentils are so delicious when their earthy sweetness is paired with the tart bright tang of lemon and cilantro. It is thick and creamy, but I added more liquid than I would if I was just making a dense dahl because I wanted this to be lighter and more soup like. Every bit of this soup is perfectly balanced in your mouth, which only leads to you eating more and more and more! But go ahead and enjoy because this dish is as healthy as it is tasty.
This soup was the first time I had tried cooking with Kalonji Black Onion Seeds and WOW – these are what has been missing every time I cook Indian food. Yes, your meal can be great without them, but they pack such a subtle, aromatic mouthful of flavor in each tiny bite you should really try to find them. They are what always made me go 'hmmm…what is that?' every time I ate Indian food. Just a few days ago we went and ate at my favorite Indian restaurant Anand Bhavan and I closely examined every dish and found these tiny black seeds studded throughout everything! Now I know and they will be an indispensable part of my kitchen from here on out!
Ingredients
1 yellow onion – diced fine
4 cloves garlic – diced fine
1/2 tsp ginger
1 tsp curry powder
1 tsp cumin
1 tsp kalonji black onion seed
1 tsp turmeric
1/2 tsp red pepper flakes
salt and pepper to taste
2 cups lentils rinsed
6 and 1/2 cups of water
3 cups of unsweetened soy milk
1 Tbsp vegan butter
2 lemons zest and juice
3/4 cup cilantro chopped
-On medium heat in a large soup pot in a drizzle of olive oil gently saute the onion and garlic for 5 minutes
-After 5 minutes add the lentils and all of the spices and cook and stir for another 3 minutes
-After 5 minutes add the water and the soy milk to the pot and simmer gently for 20 – 30 minutes until the lentils are soft but still have a bite to them. This part of the process is really subjective. I like my lentils still a bit firm, you might want them completely soft. I wanted my soup not too thick and broken down, you might. Just adjust the heat/water amount/cooking time and have fun with it.
-Once the consistency and lentils are to your liking, around 25 minutes, add the butter and stir though.
-Remove the pot from the heat and add the lemon juice and zest and the cilantro and serve with a side of naan, chapati, or paratha bread. Enjoy!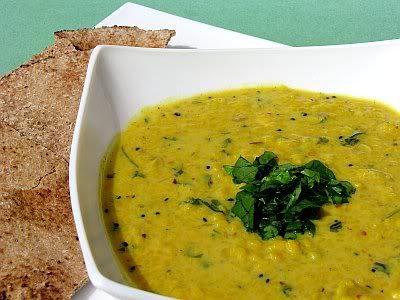 Posted by The Voracious Vegan in Vegan Recipes
on Mar 30th, 2009 |

Comments Off
This is the world's best grilled cheese sandwich ever! Seriously! It isn't just the best VEGAN grilled cheese sandwich, it is the best grilled cheese sandwich period. I love these things, can you tell?
Crispy, salty on the outside and creamy and spicy and CHEEZY on the inside!
Ingredients (makes 4 sandwiches)
1 yellow onion diced
3 cloves garlic diced
2 Tbsp vegan butter
2 Tbsp flour
1 cup hot water
2 Tbsp lemon juice
1 Tbsp miso paste
1 Tbsp spicy mustard
1 Tbsp soy sauce
1/4 cup pickled jalapenos chopped
1/2 cup nutritional yeast
pinch of salt and pepper
1/2 tsp cumin
8 slices of bread
butter to spread on the bread
-Saute the chopped onions on medium high heat for 8 minutes, until they are soft
-Add the chopped garlic and continue cooking for another 2 minutes
-Lower the heat to low and add the 2 Tbsp of vegan butter and stir until completely melted
-Add the 2 Tbsp of flour and stir for a minute till the flour is completely combined with the butter, garlic and onion
-Slowly add in the 1 cup of hot water, stirring continually until the flour and butter break down and form a thick creamy consistency with the water
* At this point the mixture will look a bit liquidy and not gooey enough to form a good grilled cheese sammy, have no fear! Once you add the nutritional yeast later on it will thicken up into a thick, cheesy consistency.
-Add the salt, pepper, cumin and jalapenos
-Add the lemon juice, miso paste, soy sauce and mustard
-Slowly stir in the 1/2 cup of nutritional yeast and stir and cook for another minute
-Remove cheese sauce from the heat and allow to come to room temperature while you spread butter on the outside of each piece of bread
-Spoon some of the filling onto a piece of bread NOT on the buttered side, then top with another piece of bread
-On medium high heat in a drizzle of olive oil cook the sandwiches buttered side down until they are brown and crispy. Top with a sprinkle of sea salt and enjoy!