Posted by Vegan Dad in Vegan Recipes
on Jun 25th, 2009 |

Comments Off
Here is the other dish I made with the clay pot tofu (a lot of tofu, I know). I rooted around online looking at some recipes, and they all were pretty much the same. I adapted the recipe here. The tofu is fried with a cornstarch coating, but you can opt out of this step and just coat the tofu in the sauce. I never use Ener-G egg replacer, but it caught my eye at the bulk food store the other day. I thought it made a nice light and crispy batter.
INGREDIENTS
Marinade
- 1 pkg tofu, cubed
- 2 tsp soy sauce
- 1 tsp cooking sherry
- 1/2 tsp ground ginger
Batter
- Ener-G egg replacer for 2 eggs
- 1 tbsp flour
- 1 tbsp cornstarch
- 1/2 tsp salt
- oil for frying
Sauce
- 1/2 cup water
- 1 tbsp cornstarch
- 1/4 cup sugar
- 1/4 cup white vinegar
- 1 tsp soy sauce
- 1 tbsp ketchup
- 1 tomato, cut into wedges
- thinly sliced red pepper
- thinly sliced cucumber
METHOD
1. Mix together marinade ingredients and toss tofu in marinade until coated.
2. Mix together batter ingredients and toss tofu in batter until coated. Fry in 350 degree oil unitl golden on all sides. Drain.
3. Mix water and cornstarch together and pour into a saucepan. Add sugar, vinegar, soy sauce, ketchup and tomato, and bring to bubbling. Add tofu and mix to coat.
4. Garnish with red pepper and cucumber (I didn't have any on hand as you can see) and serve with rice.
Posted by The Voracious Vegan in Vegan Recipes
on Jun 9th, 2009 |

Comments Off
When I started planning this dish I had been pleased that it was heading to become so wholesome, and that I will be utilizing up elements we currently had in our kitchen, but I in no way imagined I will be blown away by it is absolute delicious taste. I mean, I knew it will be hearty and wholesome (it's filled with super foods quinoa, nutritional yeast, and spinach) and be fresh and nutritious, but I did not anticipate to become shocked by its sheer cheezy yumminess! Actually, I had been heading to bake it in the oven, I had been envisioning a casserole, but as I had been ladling it into the casserole dish I tasted a little of it and was so pleased I did not wish to danger altering a point. So, it's an un-casserole!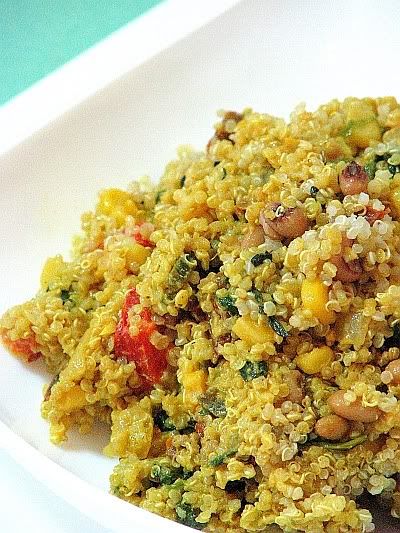 Ingredients
2 and 1/2 cups of quinoa, rinsed and cooked according to directions on package
1 yellow onion, chopped small
3 bell peppers, chopped small
3 cloves garlic, diced
2 cups chopped fresh baby spinach leaves
salt and pepper
pinch of cumpin, paprika, red pepper flake
1 can corn, drained
1 can pinto beans
-Saute in olive oil the onion, bell peppers, and garlic
-After 10 minutes or so add the spices and continue cooking for another 10 minutes until everything is tender
-Turn off the heat and wilt in the spinach
-Combine with the cooked quinoa and corn and beans
Cheeze Sauce
Ingredients
4 cloves garlic, diced
2 Tbsp vegan butter
3 Tbsp all purpose flour
1 Tbsp balsamic vinegar
2 Tbsp lemon juice
2 Tbsp mustard sauce
1 Tbsp soy sauce
3 cups water
pinch salt and pepper, cumin and turmeric
1 cup nutritional yeast
2 Tbsp pickled jalapenos chopped
2 Tbsp sun dried tomatoes chopped
3 Tbsp cilantro
-In a frying pan saute 4 cloves of garlic in a drizzle of olive oil until crispy
-On very low heat add 2 Tbsp vegan butter, stir slowly until completely melted
-Slowly add in the 3 Tbsp flour, stirring constantly until completely combined into a roux
-VERY SLOWLY drizzle in the 3 cups of water, stirring constantly until the mixture is completely combined and there are no clumps of flour (Seriously, go slow and never stop stirring. Your patience is the key to your cheeze sauce having a nice smooth texture, you don't want any clumps do you?)
-Add the balsamic vinegar, soy sauce, mustard, lemon juice, and dried spices
- Add in the nutritional yeast and turn off heat, stir completely
- Add the jalapenos, sun dried tomatoes, and cilantro
Pour the cheeze mixture over the quinoa and veggies, stir it up completely, and enjoy!
Posted by tofu in Vegan Recipes
on Apr 22nd, 2009 |

Comments Off
Raw Food Wednesday 4/22
Red Bell Pepper Empanadas
White Asparagus
Gazpacho Shooter with Baby Cucumbers
Mixed Micro Greens Salad
Strawberry Pie
Utilizing more of the bounty from Farmer Lee Jones…
The red bell pepper empanadas use the tortilla recipe (below), stuffed with greens, cashew cheese, scallions, walnut taco filling and diced tomatoes. The white asparagus was trimmed, peeled, tossed with olive oil, salt and pepper and dehydrated for 2 hours @ 105F. They retain some of the crunch, but are very tasty…
Red Pepper Tortillas
(makes approximately 8 tortillas)
1/2 cup flax seeds
1/2 cup water
1 cup red bell pepper, diced
1 tbs. olive oil
1 tbs. nama shoyu
1 jalapeño, diced
1 tsp. Mexican oregano
1 tsp. fresh ground cumin
salt and pepper to taste
Soak the flax seeds with the water and let sit for 15 minutes. Put the flax seeds and the rest of the ingredients into the Vita-Mix and process on high until smooth — this will tax the machine, but that's why you bought it in the first place.
Spread out the mixture into 7″ rounds with an offset spatula and dehydrate around an hour on 105F. Carefully flip the tortillas and dehydrate for an additional 30 minutes or so. Take a peak at this point to make sure they're not too dry — you want them flexible enough so you can roll them later. You can make these a day in advance and store in the fridge if needed.
The gazpacho shooters (tomato, red bell pepper, cucumber, onion, garlic, nama shoyu, lime juice, olive oil) were brightened by the addition of the colorful baby cucumbers. They were almost too cute to eat. Almost
If the shooters aren't enough to quench your thirst, we also made a larger bowl, adorned with a cucumber slice and a popcorn shoot. The best way to describe the popcorn shoot is that it tastes mildly like corn for the first 5-7 seconds, and then you're hit with an almost candy-like sweetness… really unique and fun!
The baby radishes were served as a crudite with a little sea salt to dip them in and then they were eaten whole — the green tops were extremely tender with just a hint of radish bite.
The strawberry pie used a quick almond/cashew/brazil nut/salt/agave crust pressed into a tart mold, layered with sliced strawberries and a little extra raw agave, which was then chilled for a few hours.