Posted by Jhenn in Vegan Recipes
on Oct 29th, 2008 |

Comments Off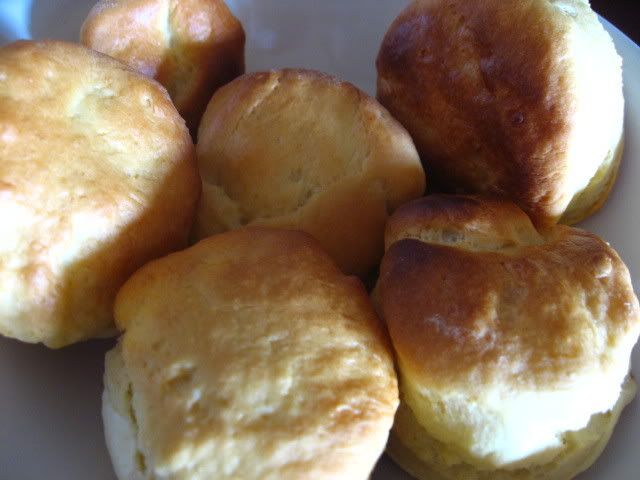 British scones are different than American scones. They're not flaky and are more like a soft, slightly sweet biscuit. Eat them warm with jam! British omni-monkey approved.
Vegan Scones by Charlotte O'Leary
8oz self-raising flour*
1 tsp baking powder
1½oz soya margarine, plus extra for greasing
2 tbsp caster sugar
150ml/4¼fl oz soya milk, plus extra for glazing
To serve
strawberry jam
1. Preheat the oven to 220C/425F/Gas 7.
2. Sift the flour and baking powder into a large bowl, and rub in the soya margarine until the mixture resembles breadcrumbs.
3. Add the sugar and mix together thoroughly.
4. Make a well in the middle of the mixture, and slowly pour in the soya milk, stirring with a metal spoon. Bring the mixture together until it forms a dough.
5. Generously flour a large board and knead the dough for five minutes. Roll it out to a thickness of about 2.5cm/1in and, using a fluted 9cm/3in cutter, cut rounds from the dough.
6. Place the rounds on a greased and floured non-stick baking tray, and glaze the top using the extra soya milk.
7. Cook in the top of the oven for about 15 minutes, until a deep golden brown colour.
8. Leave to cool.
9. Serve with strawberry jam.
This recipe is from the BBC vegetarian recipe site.
*Make your own self-rising flour, Mix:
1 C flour
1 1/2 tsp baking powder
1/2 tsp salt
Posted by Vegan Bear in Vegan Dessert, Vegan Recipes
on Oct 16th, 2008 |

Comments Off
Vegan Chocolate Tiffin/Fridge Cake.
250g of Digestive Biscuits or Plain Hobnobs
50g of Raisins
50g of Macadamia Nuts
400g of chopped up Dark Chocolate or Chocolate Chips
100g of Vegan Margarine
4 tablespoons of Golden Syrup or Agave Nectar
Crumble the digestive biscuits or hobnobs into a bowl. You're aiming for them to be in small pieces, not like the dust you'd want for a cheesecake base.
Add the raisins and chopped nuts to the biscuits and mix well.
Melt the butter in a large saucepan, and then add the syrup/nectar, heat for a couple of minutes – gently – stirring frequently.
Add the broken chocolate to the mix and mix till it has melted, don't over heat.
Tip the chocolate mix over the crushed biscuit mix and stir until the dry ingredients are all thoroughly coated.
Press the mixture into an 8-inch tin, and smooth with the back of a spoon. It's best to line the tin with some clingfilm to make it easy to remove the cake later.
Cover the top with more clingfilm, and when cooled place the cake into the fridge for at least a couple of hours to become firm.
Take out of the fridge; turn out onto a plate, cut into 12 pieces.
I hope you enjoy this quick and easy cake. It's a great store cupboard cake that you can put together if you have friends or family coming over for Thanks Giving…
Bear. X