Posted by The Voracious Vegan in Vegan Recipes
on May 8th, 2009 |

Comments Off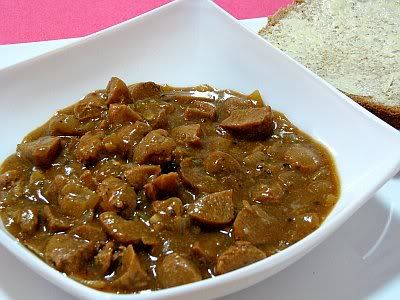 I invested two many years of my existence residing deep in the heart of South Texas, 90 miles from the Mexican border. Residing on the outskirts of a tiny town of less than 2,000 individuals with 2 traffic lights and far more cows than people, I had close to constant culture shock and never fit in. I did, however, love the expansive, open vistas, the feeling of freedom and the delicious, down home, unpretentious 'throw in what you got' Tex-Mex cowboy cooking.
My really favorite cowboy dish was carne guisada, that is usually a chopped meat covered in a quick gravy served with a side of buttered bread. Sounds so much much less impressive than it actually is. I veganized the dish easily and it tastes precisely like what I utilized to eat all individuals years ago in the Lone Star State: peppery, buttery, filling and Great. Enjoy!
Ingredients
Cooked TVP chunks, chopped small, 2 cups worth
1 large onion, diced small
3 cloves garlic, diced small
2 Tbsp vegan butter
2 Tbsp flour
2 cups hot water
2 Tbsp soy sauce
2 Tbsp balsamic vinegar
1 tsp paprika
salt and pepper (lots of pepper!)
1 tsp cumin
1 Tbsp nutritional yeast (this is not a cheese sauce so go easy on the yeast!)
-In a drizzle of olive oil saute the onion and garlic on medium heat for about 10 minutes
-Add 1 tbsp of butter and allow to melt completely
-Add in the 2 tbsp of flour and stir continually until combined
-Slowly drizzle in the 2 cups of hot water, stirring continually till you reach a thick creamy consistency
-Add the soy sauce and balsamic vinegar
-Add the spices and the nutritional yeast
-Add in the last tbsp of butter, stir completely
-This whole process should take about 5 minutes, still cooking on medium low heat
-Finally, add in the 2 cups of chopped TVP and add a bit more salt and pepper, allow to heat through and serve with 2 pieces of buttered bread. Enjoy!