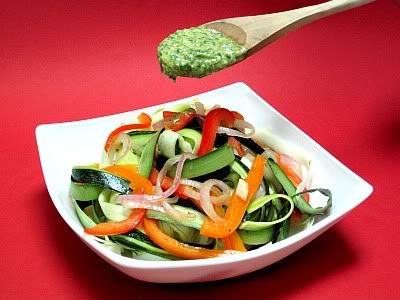 Say hello to the star of the show ladies and gentlemen! WOW! Now, I have made some tasty meals in my day, but this is one of the top 5 ever! Not just top 5 while trying to eat more raw foods, just top 5 out of everything ever! Please go make this, you will be licking the bowl clean, I promise! It is a raw pasta made from zucchini strips drenched in a thick, delicious pesto made from bright cilantro and spinach, but with a deep garlic 'cheeziness' from the nutritional yeast. The marinated bell peppers and onion add a warmth and a tang that compliments the heavy pesto sauce perfectly. The zucchini strips are so mild you really do feel like you are eating a big bowl of pasta. It is STELLAR!
Raw Pasta with Spinach/Cilantro Pesto
Ingredients
2 LARGE zucchini (I really mean LARGE, like the size of your lower arm.) peeled into thin strips with a potato/vegetable peeler (once you peel down to the seedy center, just set the centers aside for use in a green juice later, don't peel them)
1 large red onion, sliced into paper thin strips
2 bell peppers, sliced into paper thin strips
drizzle of olive oil
juice of one lemon
2/3 cup ground raw pine nuts
1/4 cup nutritional yeast
1 small bunch of cilantro, chopped very small
1 bag of baby spinach leaves, chopped very small
3 cloves garlic, diced very small
juice of 2 small lemons
pinch of salt and pepper
olive oil
– Set the zucchini strips aside
-Combine the red onion strips and bell pepper strips in a bowl and toss them with the juice of one lemon and a small drizzle of olive oil and allow to marinate for 1 hour
– Combine the pine nuts, nutritional yeast, spinach, cilantro, garlic, juice of 2 lemons, salt and pepper (I don't have a food processor so just chop everything very well!)
– Into the pine nut mixture drizzle in olive oil slowly while stirring until everything is combined and to the consistency that you like. I prefer mine fairly thick, but loose enough to cover my veggies.
– Combine the marinated onions and bell peppers with the zucchini slices and top with the pesto sauce. Enjoy!